Meet Santa! Watch Holiday TV Classics!
Enjoy Family Activities! FREE Hot Cocoa!
Opens Saturday, November 24!
11:00 am for Paley Members
Noon for General Public
Regular Hours: Wednesday to Sundays noon to 5:00 pm
FREE Admission
Beverly Hills, Calif. –The Paley Center for Media celebrates the joy of the season with a special family-friendly experience. It's Holiday Time in PaleyLand features continuous daily screenings of beloved classic holiday TV programs from the Paley Archive. Families can also enjoy special holiday activities like arts and crafts, dreidel games, and FREE hot cocoa!
NEW this year: enjoy an immersive Instagram experience where you can pose in a whimsical Candy Cane Forest. Post your pics using the hashtag #PaleyLand.
Meet Santa and Friends!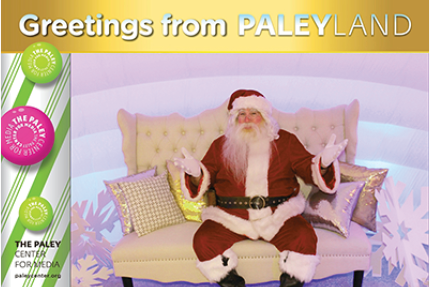 Bring the family to PaleyLand and have a visit with Santa
Santa photo with PaleyLand digital frame plus the digital file is $10.
FREE for Paley Members. Become a Member
Breakfast with Santa in PaleyLand for Paley Members Only!
Saturday, November 24, 11:00 am to noon
Kick-off your holiday season with an exclusive sneak peek of PaleyLand for Paley Members Only. Enjoy breakfast bites & treats, get your FREE souvenir photo with Santa or the Paley Menorah, watch favorite holiday TV Classics on the big screen, and express your creativity with arts and crafts in the PaleyLand Workshop.
Become a Member now to come to Breakfast with Santa.
Visit with Santa Schedule:
Saturday, November 24: noon – 5:00pm
Sunday, November 25: 11:00am – 5:00pm
Saturday, December 1: 11:00am – 5:00pm
Sunday, December 2: 11:00am – 5:00pm
Saturday, December 8: 11:00am – 5:00pm
Sunday, December 9: 11:00am – 5:00pm
Saturday, December 15: 11:00am – 5:00pm
Sunday, December 16: 11:00am – 5:00pm
Wednesday, December 19: 11:00am – 5:00pm
Thursday, December 20: 11:00am – 5:00pm
Friday, December 21: 11:00am – 5:00pm
Saturday, December 22: 11:00am – 5:00pm
Sunday, December 23: 11:00am – 5:00pm